The origin and history of chrome green
Chrome oxide green, also known as chromium dioxide or chromium oxide, is one of the four oxides of chromium, with the chemical formula Cr2O3. When used as a pigment, it is often referred to as chrome green. Synonyms: chrome oxide green, chrome green, chromium dioxide, Viridian, etc.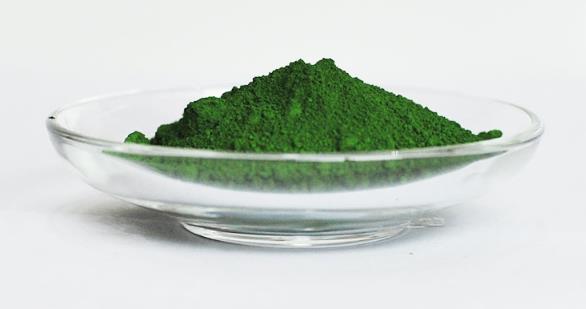 Origin and history:
In 1797, Louis Nicholas Walkerland discovered the element chromium in lead chromate. The element chromium is named chromium because many colorful compounds can be produced from it. As early as 1809, chromium oxide was used as enamel in porcelain factories, but it has not yet been used as a paint. Several sources wrote that chromium oxide was not used as a pigment until 1862, but there is evidence that it was used earlier. This pigment has been confirmed on a painting by J.M.W. Turner, which dates back to 1812. George Field mentioned the self-made example of this pigment in his diary in 1815. In 1831 Wergenau discussed two different preparation methods, but he said that the pigment was not widely used because of its high price. A pigment catalog printed around 1840 listed a green chromium oxide, which is believed to be chromium oxide. In addition, in 1969, Kuhn used microscope and emission spectroscopy to discover chromium oxide in three paintings from 1845 to 1850. It is generally believed that chromium oxide was used earlier than the hydrated version. However, their use is limited because these greens are much more expensive than emerald green or chrome green due to the preparation process. When mixed with yellow, it is sometimes used to make paint that does not fade. In the past, it was used for car finishing and making bank notes.
The first person to prepare chromium oxide was Panier in Paris, but his craft was hidden. Gigne invented a two-step method to prepare this chemical. His first step is to heat boric acid and potassium dichromate. This process is called calcination, which produces a porous mass. The second step produces hydrated oxide, boric acid and some boron, and then the mass is washed in cold water, or hydrolyzed. This is just one of several ways to prepare chromium oxide. Hydrated chromium oxide has no specific chemical composition, because the chemicals produced by different preparation processes contain boron, while the chemicals produced by other processes do not have boron.
Chrome green pigment is now widely used for smelting metallic chromium and chromium carbide, enamel, ceramics, glass, artificial leather, refractory materials, coloring of building materials, catalysts for organic synthesis, special inks for manufacturing light-resistant materials and printing banknotes, Metal polishing and abrasive materials, metal surface chromizing, magnetic materials, etc. Used in paint, ceramics, rubber, art paint, and camouflage paint, etc. Hunan Nuoli is a manufacturer specializing in the production of chromium green pigments. If you have purchase requirements, please call for consultation. We provide free samples.