Nolifrit Technical Support For Enamel Sign Factory
Is it difficult for a novice to develop an enamel processing line? After reading this article, you will know.
Recently, a sign factory in China received an important order. The customer needs high-quality enamel signs. This sign factory is mainly engaged in aluminum plates, PVC, plexiglass, etc., but there are no enamel related products before. The sign factory consulted many enamel processing factories, and finally decided to develop its own enamel processing line because of the expensive processing and high cost.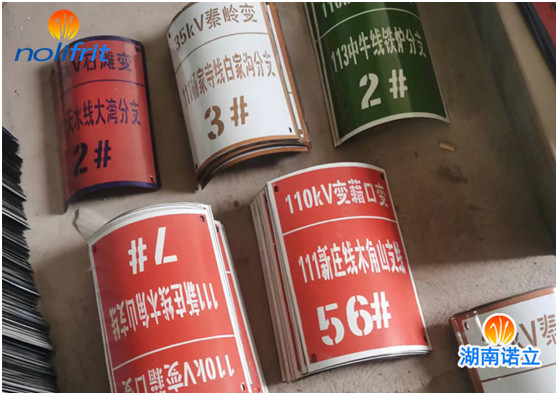 As we all know, the enamel industry has high technical requirements, and enamel equipment only needs to be purchased, but enamel talents are scarce, and many newbies will face difficulties in entering the industry. In order to complete this important order, the sign factory finally contacted Hunan Nolifrit through the Internet.
Nolifrit is the source manufacturer of enamel frit and enamel pigment in China. In addition to products, it will also provide customers with related services and technical support. Nolifrit has very mature experience in the production of enamel signs. After receiving the consultation, it immediately sent technicians to the sign factory to guide the enamel technology.
According to the detailed conditions and needs of the sign factory, Nolifrit customized an affordable and cost-effective solution suitable for it, and provided technical support for free. The initial sample test on site was successful, and there were no other problems in the actual operation. In the end, the sign factory successfully completed the order.
It is not difficult for beginners to make enamel. If they choose the right track and cooperate with powerful brand manufacturers, they can better open up the market.