Nolifrit Porcelain Enamel Practical Training
From February 8th to February 9th, 2022, with the purpose of "strengthening the employees' enamel knowledge reserve and improving the professional level of enamel", Nolifrit adopted the method of lectures and guidance by business personnel, and hands-on learning for new employees. A two-day training activity for business personnel on the practical operation of enamel technology. During the training process, each salesperson personally operated each enamel process, took notes and studied spontaneously, and the activity required final assessment, hoping that each employee could achieve ideal results in the assessment.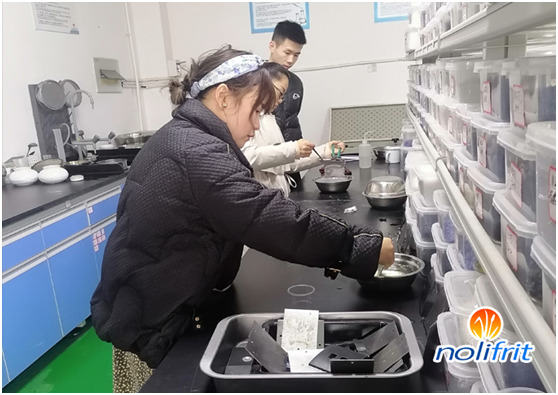 This training is the first phase, which is to make new employees familiar with the basic process of enamel. , b value), etc.
From enamel metal pretreatment, sandblasting operation, preparation of enamel slurry, measurement method of enamel slurry bulk density, fineness test to sample firing, etc., a complete set of processes has been learned comprehensively and thoughtfully.
After learning the theoretical knowledge, the employees of Nolifrit have practiced this training by themselves, combining theory with practice and achieving good learning results. They will continue to carry out related training activities in the future.
As a supplier of enamel frits and inorganic pigments (enamel pigments), Nolifrit has always pursued excellence in the industry. In order to bring considerate and advanced technical services to each customer, even business personnel still require high enamel industry Professionalism. Only by adhering to the attitude of "professional service to every customer" can Nolifrit take root in the field of enamel frits for 26 years and gain the deep trust of customers.