Nolifrit Help Customer Achieve Product Upgrades
In early March, Nolifrit technical team was invited to an enamel factory to provide customer with product services and technical guidance. This is a high-end enamel cookware brand in China. Their enamel teapot is loved by customers because of its beautiful appearance and excellent quality.

In recent years, due to the international situation and the rising demand for popular precious metals such as lithium batteries for new energy vehicles, the price of enamel-related raw materials has shown a continuous upward trend, which has brought great pressure on the production cost of the brand. Enamel factories are facing great challenges and urgently need to find breakthroughs in the current environment to create more competitive and differentiated products.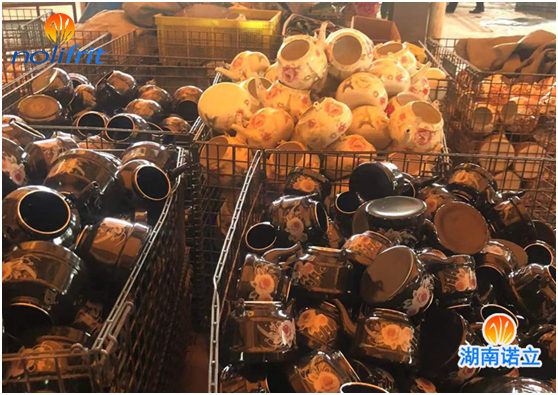 The customer wanted to improve the enamel firing process. On the premise of ensuring the quality of the product, the "two enameling and two firings" of the cover coat enamel were changed to "one enameling and one firing". In order to meet the needs of customers, Nolifrit technical team visited the enamel factory, provided customized services for customers according to the actual situation, put forward a plan, and suggested using an enamel cover coat with better hiding power and opacity. The enamel products coated by our enamel frit no defects, and the porcelain surface is smooth and delicate, which is more suitable for its enamel firing needs and has achieved success.

In this way, the effect of reducing energy consumption, greatly reducing enamel consumption and significantly reducing labor costs can be achieved, and improving the firing process can also reduce product defects and improve the pass rate. Clients expressed high appreciation for this and expressed their willingness to maintain a long-term cooperative relationship.

Nolifrit not only provides relevant guarantees for customers with rich product categories and professional service attitude, but also enhances the competitiveness of its enamel products by helping customers to upgrade their brands. A journey of a thousand miles begins with a single step. Nolifrit insists on extensive cooperation with partners and contributes to the development of China's enamel industry.