Nolifrit Held Lecture on
"What is High-Performance Talent"
On September 5th, Nolifrit Company held a lecture entitled "What is high-performance talent", aiming to explore the key elements and training methods of high-performance talents. This lecture was hosted by Mr. Wang Haiyun and attended by Nolifrit employees. In the lecture, he shared his understanding and views on high-performance talents, and proposed five key elements: self-drive, strong sense of purpose, strong desire to learn, self-discipline and ability to resist setbacks.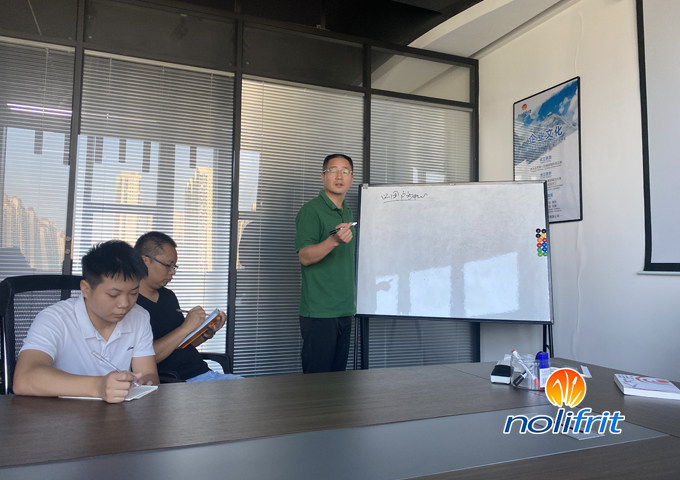 First of all, Mr. Wang emphasized the importance of self-driving force. He said that high-performing talents should have intrinsic drive and be able to proactively pursue personal and team success. This kind of self-driving force can push employees to overcome difficulties and setbacks and continuously pursue excellence.
Secondly, Mr. Wang mentioned a strong sense of goal. High performers need clear career and personal development goals that are translated into action plans. A sense of purpose can inspire employees' enthusiasm and motivation, causing them to actively work towards their goals.
Third, Mr. Wang emphasized the importance of desire to learn. High-performing talents should maintain a state of continuous learning and continuously improve their knowledge and skills. Only with a strong desire to learn can we adapt to the rapidly changing market environment and remain competitive.
At the same time, Mr. Wang also talked about self-discipline. High-performing talents should have good self-management skills, be able to reasonably arrange time and resources, and complete tasks effectively. Self-discipline allows employees to fully realize their potential and achieve better results.
Finally, Mr. Wang emphasized the importance of the ability to resist frustration. In a highly competitive business environment, high-performing talents often face challenges and difficulties. Only with a strong will and the ability to resist setbacks can we calmly respond to pressure and keep moving forward.
During the interactive session of the lecture, participating employees actively asked questions and shared their experiences and opinions. Through in-depth exchanges with Mr. Wang, they gained a deeper understanding and inspiration for the cultivation of high-performance talents.
Through the lecture "What is High-Performing Talent", Nolifrit further strengthened its understanding and awareness of cultivating high-performing talents, laying a solid foundation for the company's development. I believe that with the company's efforts, more outstanding high-performance talents will be cultivated and contribute to the long-term development of the company.