Nolifrit Customize Enamel Pigments For Customers
In the enamel industry, high temperature resistant inorganic pigments used to decorate enamel products are called enamel pigments. There are many differences between inorganic pigments and organic pigments because of their different molecular structures. Inorganic pigments have higher dispersibility, hiding power and thermal stability, and their cost is lower than organic pigments. Except for enamel, they are widely used in coatings. , ink, glass, ceramics and other fields. However, the color spectrum of inorganic pigments is not as complete as that of organic pigments. Therefore, if there is a special requirement for the color of enamel products, it is necessary to color tint on the basis of the original pigment.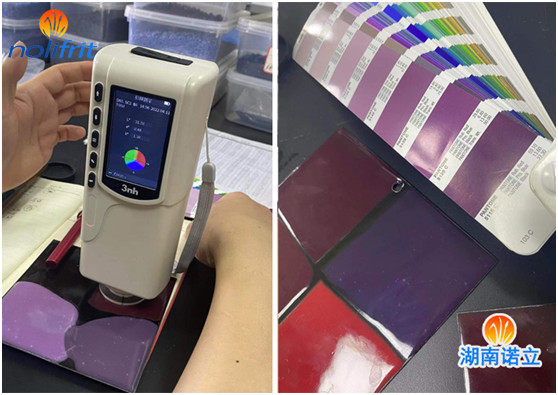 Nolifrit is a supplier of inorganic pigments, focusing on product differentiation and product innovation. The color matching of enamel pigments requires technicians to have certain knowledge and experience in chromaticity. Recently, a customer needs to call out the Pantone color card No. 5115c color. Nolifrit technicians from different ratios of blue, wrap purple, lilac purple and cadmium red pigments, after many attempts, continue to pass the colorimeter test. , and finally get the enamel color that is consistent with the valuesof 5115cL, a, and b.
The process is as follows: firstly prepare the enamel frit, use the Noli transparent enamel frit, then add two or more enamel pigments to prepare according to different specific gravity, and then put it into a ball mill jar, add water and mill additives for grinding. After grinding, the enamel slurry is obtained by sieving. At this time, it is necessary to pay attention to the thickness and uniformity of the enamel slurry. Apply the enamel slurry on the sample plate that has been fired with the enamel ground coat, wipe off the excess enamel slurry, and put it into an electric blast drying oven to dry. Then put it into a firing furnace, set the firing temperature to 820°C, take it out after 10 minutes, and obtain the target color after natural cooling.
In addition to purple series, Noli inorganic pigments also have cadmium red (big red), cadmium yellow, cobalt blue, chrome green, melanin and other color series, if you have related questions or needs, welcome to contact us!