Nickel-free Enamel Ground Coat
A New Choice For Enamel Manufacturers
Recently, an enamel factory customer in Peru contacted us. The client mainly deals in enamel for cooking utensils and home appliances, including enamel utensils, enamel tableware, enamel ovens, etc. It is a high-end enamel brand that exports enamel products to developed countries and regions such as Europe and the United States for a long time.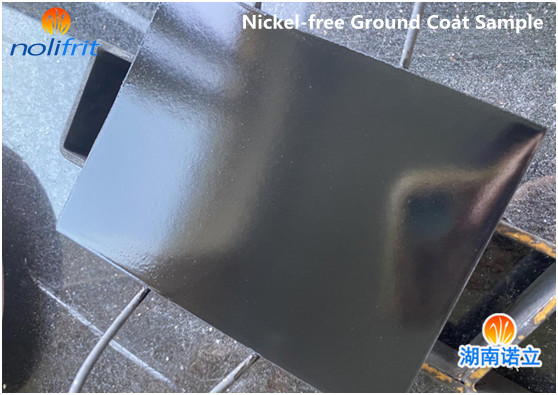 The customer wants to purchase a nickel-free enamel ground coat for the inner plate of the steel plate enamel oven. On the one hand, because the product needs to be in contact with food, it also has higher quality requirements. According to the relevant EU regulations, the enamel must not contain heavy metals to ensure non-toxicity. Environmental protection; on the other hand, since the beginning of this year, the price of enamel raw materials has shown a rising trend, which has brought pressure on production costs, and enamel manufacturers are also looking for better alternative products.
The nickel-free enamel ground coat independently developed by Nolifrit can achieve good adhesion even without nickel oxide. After learning about the relevant needs of customers, the technicians of Nolifrit R&D Center immediately carried out proofing tests on related products. The samples made of nickel-free enamel ground coat have fine and defect-free surfaces, excellent high temperature resistance, acid resistance and water resistance, which perfectly meet customer requirements.
After dozens of days of overseas transportation, the samples arrived in the hands of the customer. The customer was satisfied with the effect and expressed appreciation for the product quality and brand strength of Nolifrit. On this basis, further demands were put forward: "Because the product For mass production and mechanized operation, we want a nickel-free enamel ground coat powder that can be used just by adding water." Nolifrit responded positively to the customer's needs, and the two parties have reached a friendly cooperation on this.
Regarding nickel-free enamel ground coat, in addition to Peruvian customers, Hunan Nolifrit also provides related products and services to enamel factories in other European countries such as Spain. As a global export base of enamel frit and inorganic pigments, Hunan Nolifrit upholds the firm belief of "establishing business with integrity and focusing on quality", and has won the trust of customers with efficient response, excellent technology and thoughtful service. In the future, we will continue to Adhere to independent innovation and independent research and development, and work with cooperative businesses to contribute to the development of the enamel industry.