New Application - Enamel Anti-Glare Panel
The anti-glare panel is a traffic safety product installed on the central divider to solve the glare of the opposite car lights on the highway. It has been used in worldwide for decades. This industry has made great achievements in the design, production and application. Especially on the material used and shape of the anti-glare plate.
Recently, Nolifrit customer find a new innovative application of our enamel coating, they use our enamel ground coat and green cover coat coated on their anti-glare panel. And made great success in their application. They are one of the most successful traffic facilities manufacturers in China. With excellent product quality, advanced technology and beautiful design and appearance of their product, They has won customer satisfaction with high quality and high efficiency. And established a good reputation worldwide.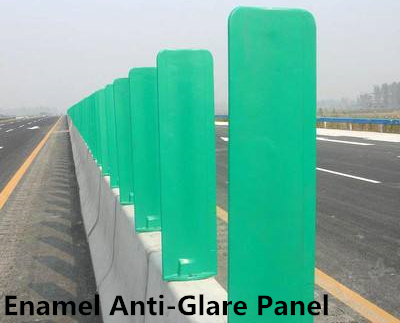 The advantages of enamel anti-glare panel:
1. Withstand continuous blowing: Many people may not believe that wind can blow off the anti-glare panel on the highway, but it turns out that this situation often happens. But enamel anti-glare panel wont easily blow off by wind, even by sandstorms or typhoon.
2. Anti-corrosion: The enamel anti-glare panel surface is glass hard, wear resistant and extraordinarily scratch- and shock-proof. Enameled surfaces are non-porous and hence impermeable to all liquids. Salt spray tests performed on enameled parts with a cold rolled steel substrate indicate that they can withstand salt spray for over 500 hours without showing any signs of red rust. Tests conducted by the Porcelain Enamel Institute have shown that enameled panels could go for 30 years without any signs of corrosion on the metal substrate.
3. Color fast: The enamel anti-glare panel is not easy to fade. The cover coat enamel layer do not fade and are absolutely light-fast. Blue does not turn into grey, red remains red and white does not turn yellow. The color brilliance of enameled signs and panels remains forever.