How to Test Adhesion Level for Enamel Coating
The adhesion level of enamel coating can not be directly judged by its surface appearance. As the combination of enamel coating layer with steel is hidden inside. While Nolifrit has a very professional method to test adhesion of enamel coating.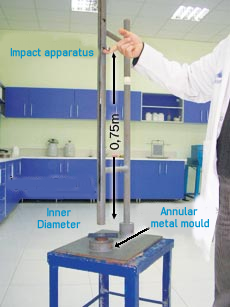 Impact Test Instrument
Test Principle
Test weight generates a cavity on the enamel coating surface as the result of free fall. The enamel in this region breaks and the effect of the impact visually examined. The impact effect is scored in accordance with the following graduation scale. This result is recorded as adhesion value of the enamel.
Test Method
Impact testing instrument on the picture is used. The impact apparatus has a specific diameter with specific weight and spherical tip. The plate with enamel coating is placed on the annular metal mould.
Structural Specifications
A pipe with a length of 1 meter and an inner diameter of 21 mm is positioned fully vertically on an appropriate chassis. A channel is opened on one side of the pipe. There are various sections positioned on various heights of the pipe in order to fix the weight.
The weight of impact apparatus inside the pipe is 2kg. The tip of this apparatus is designed to be a hemisphere with a diameter 10 mm. The distance between the end of the pipe and the metal mould is adjusted in a manner so that the power of the vertical load weight will not decline.
Distance between the impact weight and metal plate to be tested is 0.75 m. The impact part is released from this position, so the impact energy is determined as 15 kj. Impact energy = Falling height X Impact weight X Gravitational constant.
The result can show the adhesion level of enamel coating with steel plate. There are mainly 5 levels as follows:





5 Too Weak 4 Weak 3 Intermediate 2 Good 1 Excellent
Hunan Noli Enamel Co,. Ltd is the leader manufacturer of enamel frit and enamel powder in China. Focused on enamel coating solutions for almost 30 years.
We have very professional laboratory and engineer to test enamel plate. Our ground coat all meet with the standard of Excellent level. Which make the quality of our enamel frit supreme and stable.